Do you need help with a writing project? Working with freelance writers can do a whole lot for your brand over time.
This is one of the easiest strategies to implement when curating content for your blog. It will eventually save you time in the long run.
The process of finding and hiring a freelance writer can be pretty tasking. What can you possibly do?
This article offers tips on how to hire freelance writers and the qualification process. Let's cut to the chase!
How to hire freelance writers
Before you start hunting for writers, you'll need to state some clear goals.
What do you want the writer to do? What is your timeline for this? Without answering these questions, it will be difficult to hire the right person, let alone create a good and accurate job ad that writers will respond to.
Having clear goals and preferences will save you a whole lot of time as you won't be disappointed with the interview process.
What are the factors to be considered when hiring freelance writers?
Content-type
What kind of content do you want? This might seem like a simple question but it's important you answer it right.
There's a huge difference between short blog posts and engaging email copy, and long-form, educational content.
Do you want your content to be entertaining or more serious? For an informative and insightful content, the article should be about 3000 words or more.
Time
How often do you need your freelancer to create content? Daily or once in a while? If you're not clear with scheduling, you may encounter issues.
Considering the time frame, you might want to hire someone once off or on an ongoing basis to become a part of the team.
Payment
How much do you intend to pay a freelance writer? You should consider this before setting up interviews with writers who are out of your price range.
The amount paid to writers varies based on a number of factors, including experience and breadth of knowledge. You can pay per word, by the hour, project, or monthly basis.
Paying per word is fine but can get messy when you take account redrafting into consideration.
Paying by the hour can be difficult as you might not be able to keep track of time. Paying per word or by the hour are good choices if you don't need a steady stream of content.
If you want content on an ongoing basis and intend to establish a relationship with the writer, paying monthly or by the project are your best options.
What to look for in a writer
The kind of writer you want is relative to what you need. However, there are certain traits every freelance writer should possess:
A solid body of work
Every writer ought to have a portfolio or a collection of some high-quality writing samples at hand.
You can tell a lot about writers through their work. You can deduce if they're talented, experienced; if their style fits what you're looking for, and if they are adept at changing their voice depending on the project, as well as their level of expertise.
It gives you the chance to check for plagiarism – because if the work they're sending you isn't even their own, they probably aren't the right writer for you.
The right time zone
You'll want to maintain regular communication with the freelancer hence the need for the right time zone.
If they're somewhere in the world that's ten hours behind where you are, this may be awkward.
Responsiveness
Responsiveness in a writer is a sign of reliability and professionalism; two traits you should look out for when hiring someone.
This is essential if you're hiring someone to work remotely. Having to hound them about meeting deadlines or a project's status is pretty stressful.
Excellent reviews and references
You can tell how good a writer is from their body of work. Check out any testimonials they might have.
Inquire if they can provide any references you can contact directly.
This avails you an opportunity to find out about their project management techniques and how good they are at delegating their time between work for different clients.
Freelance Marketplaces
A freelance marketplace is a platform that acts as an intermediary between you and the person you're hiring.
It provides an avenue for you to easily find writers. Some popular freelance marketplace includes:
Fiverr is another popular platform where freelancers advertise themselves.
Having different categories and sections, you can pinpoint results to writers who fit your exact needs.
For example, you can select "Writing & Translation" section or "Articles & Blog Posts" and choose the level of research you'd like done, tone of voice, article type, and lastly when you need your article.
The results shown feature the most suitable writer profiles, each one having a star rating, description, rates they charge, and reviews.
One of the most popular services on Fiverr is content writing.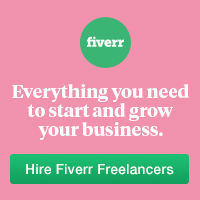 Why Fiverr is the best platform to hire freelance writers
Writers in multiple languages available: If you're looking for content that's written in English, Thai, or Mandarin, Fiverr has a wide array of freelancers who are capable of delivering quality content for any geographic audience.
Clear ratings and rankings: All Fiverr freelancers are evaluated on a five-star standard, this makes it easy to identify top performers.
There are also four levels of sellers (New Seller, Level One, Level Two, and Top Rated) which gives you a better sense of a freelancer's experience and professionalism.
Intuitive filters: Based on your specific project's needs, you can filter out potential writers.
When searching, you can choose the article type, tone, language, topic, skill level, and price.
Secure messaging and payments: Your information is kept private when sharing personal or professional details.
Fiverr makes use of a secure messaging system and payment portal which ensures your information is safe.
Other freelance platforms include the following:
Upwork
Upwork is probably one of the most popular freelance marketplaces out there.
Companies post an ad for free while freelancers respond to the ad with their own payment bids and proposals.
The platform offers businesses the option of hiring people for one-off tasks, recurring projects, and even full-time contract work.
You can also consider the following platforms:
Freelancer
Indeed
Problogger
Guru.com
iWriter and more